Couch White, LLP is pleased to announce that three of the firm's Partners have been recognized in the 2024 30th edition of The Best Lawyers in America® .
Recognition by Best Lawyers is based on extensive peer-review surveys where leading attorneys vote on the legal abilities of other lawyers based on their specific practice areas around the world. A description of the methodology can be found on the Best Lawyers website.
Congratulations to all!
Best Lawyers® 2024 Energy Law "Lawyer of the Year" Albany, NY
Robert M. Loughney
The Best Lawyers in America® at Couch White include:
Joel M. Howard III, Commercial Litigation
Robert M. Loughney, Energy Law
Brian P. Murphy, Corporate Law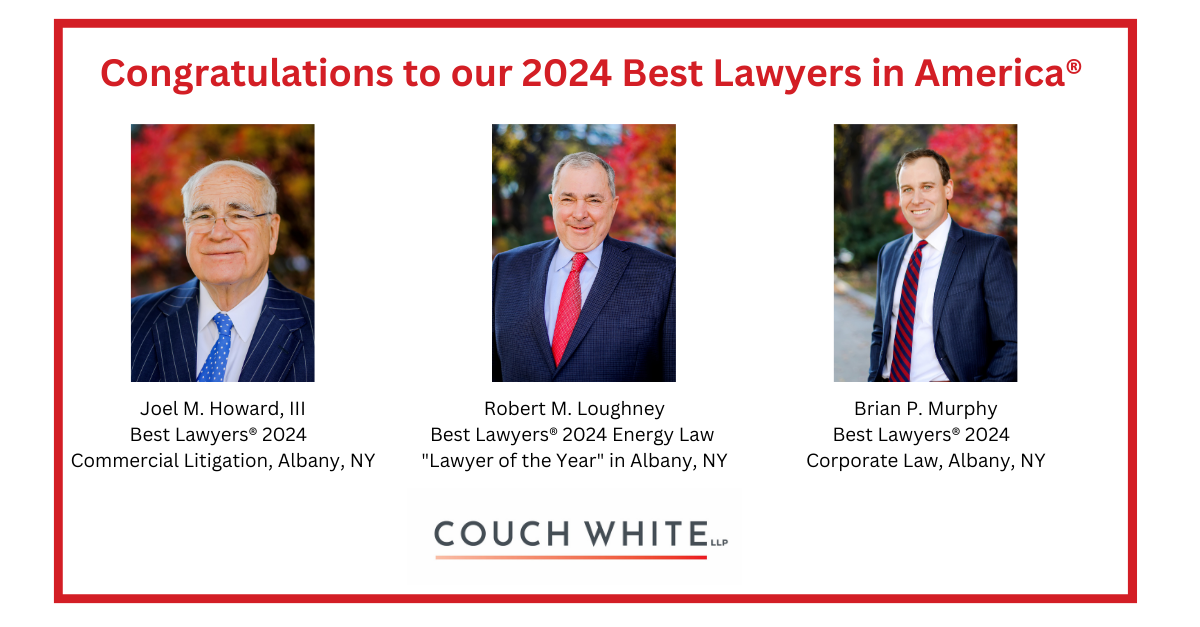 ###
About Couch White, LLP:  Couch White, LLP is the preeminent full-service business law firm in Albany, New York. Servicing Fortune 500 companies, multi-national corporations, and small businesses, the firm specializes in the practice areas of Energy, Renewable Energy Transactions, Environmental, Corporate and Commercial Transactions, Real Estate, Construction, Commercial and Complex Litigation and Trust & Estate Planning & Administration. With additional offices in New York City and Saratoga Springs, New York, and Hartford, CT, Couch White provides unparalleled expertise and cost-effective legal representation, producing creative, ethical and desirable solutions for its broad base of clients.