Couch White, LLP was named by the Albany Business Review as one of the Best Places to Work in the Capital Region. For 20 years, the Albany Business Review has been surveying employees at nominated workplaces to measure employee engagement and office culture.
Couch White is honored to named a best place to work by our employees and we value our employee's contributions and dedication to their work every day!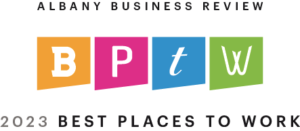 ###
About Couch White, LLP: Couch White, LLP is the preeminent full-service business law firm in Albany, New York. Servicing Fortune 500 companies, multi-national corporations, and small businesses, the firm specializes in the practice areas of Energy, Renewable Energy Transactions, Environmental, Corporate and Commercial Transactions, Real Estate, Construction, Commercial and Complex Litigation and Trust & Estate Planning & Administration. With additional offices in New York City, Saratoga Springs, New York, and Hartford, CT, Couch White provides unparalleled expertise and cost-effective legal representation, producing creative, ethical and desirable solutions for its broad base of clients.